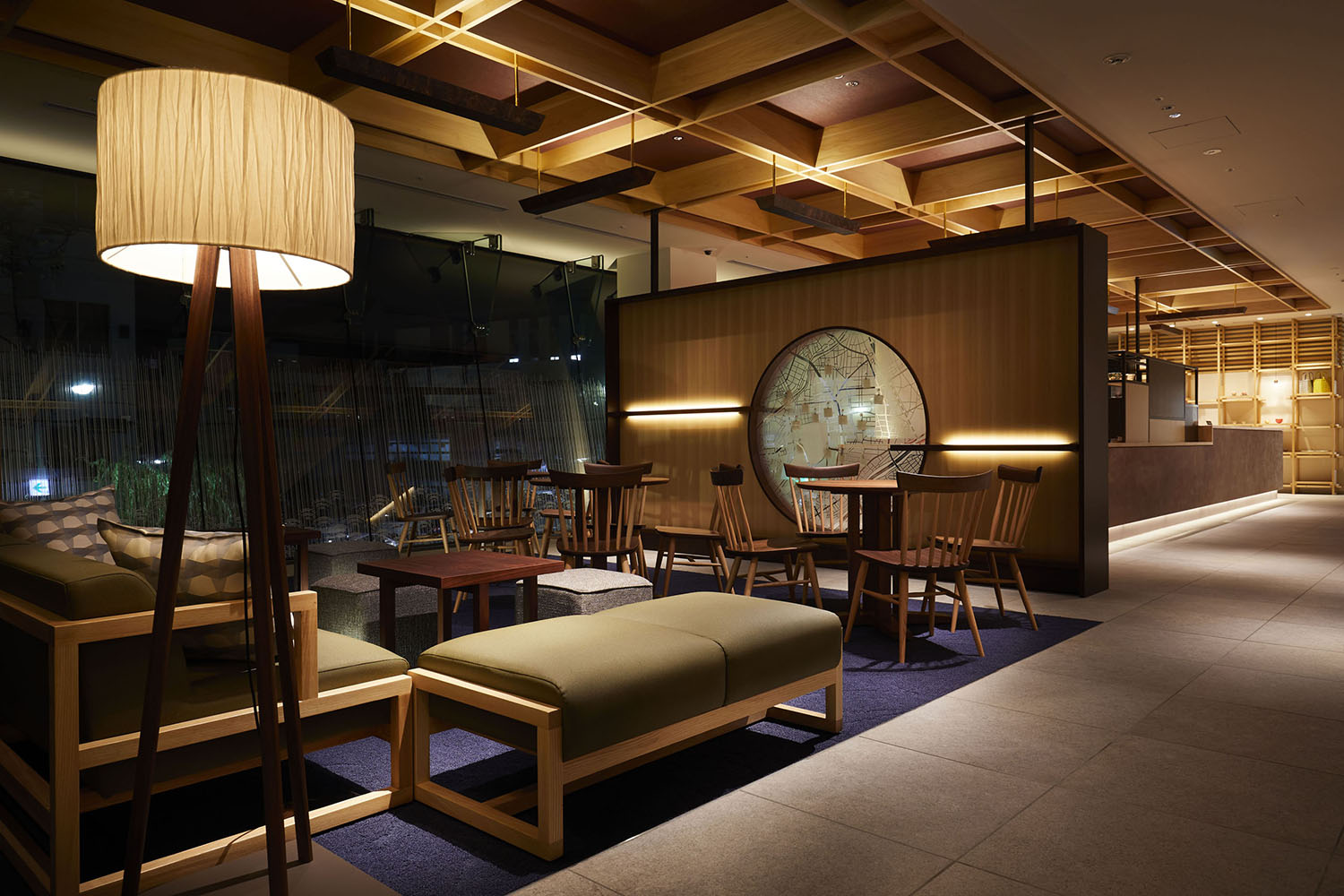 Ichie Lounge – AGORA Kanazawa
Link to the town spirits
creatives
BRANCH lighting design (lighting) / Kikuchi Kagu (carpenter work) / orii (metal)
ブランドコンセプト「茶邸」- 茶の湯のこころでお迎えする我が邸宅
。
金沢の茶道文化は加賀藩の繁栄に支えられ発展してきたことから
、
武家茶道=大広間をイメージした空間構成
。
フロントカウンター、ウェルカムドリンクの提供を行うカウンター、
まちの情報を発信する円窓の地図、その向こうのプライベートなラウンジ空間
。
大広間をイメージしたオリジナルの格天井の下にそれら機能を集約し
、
客人をもてなす邸宅のリビングと位置づける
。
県木でもある能登ヒバを材とし伝統的な木工技術で作られた棚、
簾に囲われ和紙の照明が印象的なギャラリースペース
、
高岡銅器の職人による吊り照明と金属パネル、
存在感のある重厚なカウンター、そして同材で縁取られた茶の炉
。
見て、触れ、体験することにより
、
日本そして金沢のマチゴコロを感じることができる空間
。
"Satei (Tea Residence)" is original concept of the brand,
welcoming guests with a spirit of traditional tea ceremony.
Tea ceremony in Kanazawa was developed in glory of the local feudal Kaga domain.
Imagining a samurai lord hosting a tea ceremony in his great residence,
a grand coffered ceiling of traditional architecture is re-designed
as a key element at the lounge.
Front counter, welcome counter to offer tea experiences, the town map in a round window conveying current happenings, and intimate lobby lounge beyond.
All these hotel functions, placed together under the same ceiling,
become a grand living room to entertain guests.
Shelfs made of the prefecture's symbol tree, Noto hiba cypress, using
traditional carpenter's technique, the gallery space with paper lanterns framed by
sudare bamboo screen, light box and metal panel made by artisan
of the local copperware, a big solid timber counter with a presence and a frame
of tea hearth made of the same timber.
All these presences, tactile and experiences enhance encounters with
Japanese culture and experiences of the town spirit.